NATIVE FOOD MONTH: CURRIED LENTIL, TOMATO, ANISEED MYRTLE AND COCONUT SOUP
September 6 2019
·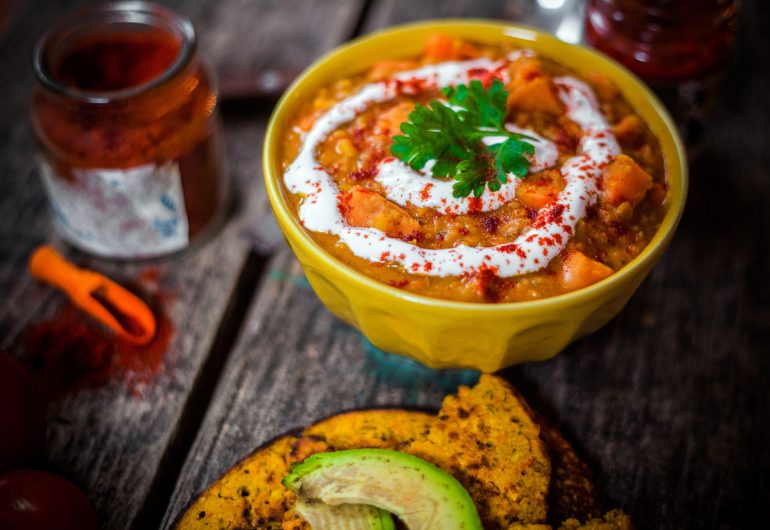 September 6 2019
·
INGREDIENTS
Extra virgin olive oil
2 onions, finely chopped
2 large cloves garlic, finely chopped
3 inch (about 30g) piece of fresh ginger, grated
4 tbsp curry powder (use less if hot variety)
1 tsp red pepper flakes
1 ½ cups (300g) red lentils
6 cups vegetable stock
3 cups (750g) good quality bottled tomato sauce
6 cups vegetable stock
2 tbsp Aniseed Myrtle extract
1 can coconut milk
Sea salt and black pepper to season
Big handful of cress, microgreens or baby salad leaves
Handful of cilantro leaves
2 radishes, finely sliced
Extra virgin olive oil
METHOD
In a large pot, heat olive oil and add the onions with a pinch of sea salt. Cook for 8-10 minutes until golden. Add the garlic, ginger, curry powder, red pepper flakes and another pinch of salt; cook for 2 mins.
Add the lentils, stir, and then pour in the stock and tomato sauce. Reserve about ¼ cup of the coconut milk for topping, and add the rest of the can to the soup. Add in the Aniseed Myrtle extract. Stir and cook for 20-25 minutes. Taste and season soup with sea salt and black pepper.
Combine salad leaves with the cilantro and sliced radishes. Drizzle with olive oil and season with sea salt and black pepper.
Ladle soup into big bowls, drizzle over some of the reserved coconut milk and top with the leafy, radish salad.
Recipe adapted from Arthur Street Kitchen.
Read more
✕