Barbecued butterflied lamb leg with saltbush rub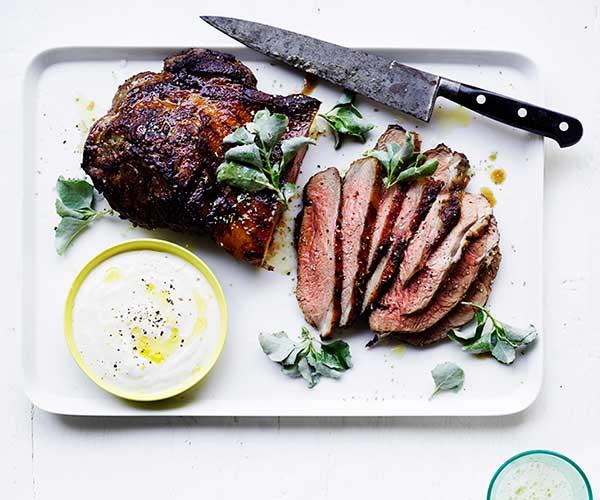 We share a comforting Winter recipe that pairs tender Australian lamb with a native saltbush marinade.  As the name suggests, this native herb adds a delicious salty flavour to the meat.
2 tbsp finely chopped oregano, plus extra to serve
2 garlic cloves, finely grated
1 tsp ground cumin
1 tsp ground coriander
1 tsp ground dried saltbush (see note)
1.5 kg butterflied lamb leg
For the yoghurt-lemon sauce:
300 gm Greek-style yoghurt
2 tbsp extra-virgin olive oil
1 garlic clove, finely chopped
Combine oregano, garlic, spices, dried saltbush, lemon rind and oil in a large bowl, add lamb and rub all over with marinade. Cover bowl with plastic wrap and leave to marinate at room temperature for 1 hour (or refrigerate overnight, removing from fridge an hour before cooking).
Heat a barbecue to medium-high heat. Remove lamb from marinade, place on barbecue fat-side down and grill, turning every 10 minutes, until cooked to your liking (45-50 minutes for medium-rare). Transfer to a tray, cover loosely with foil and rest for 20 minutes.
For yoghurt-lemon sauce, mix ingredients in a bowl and season to taste.
Slice lamb across the grain, top with saltbush and serve with yoghurt-lemon sauce.
Note: You can purchase dried saltbush via select grocers or online at herbies.com.au
.
Read more
✕