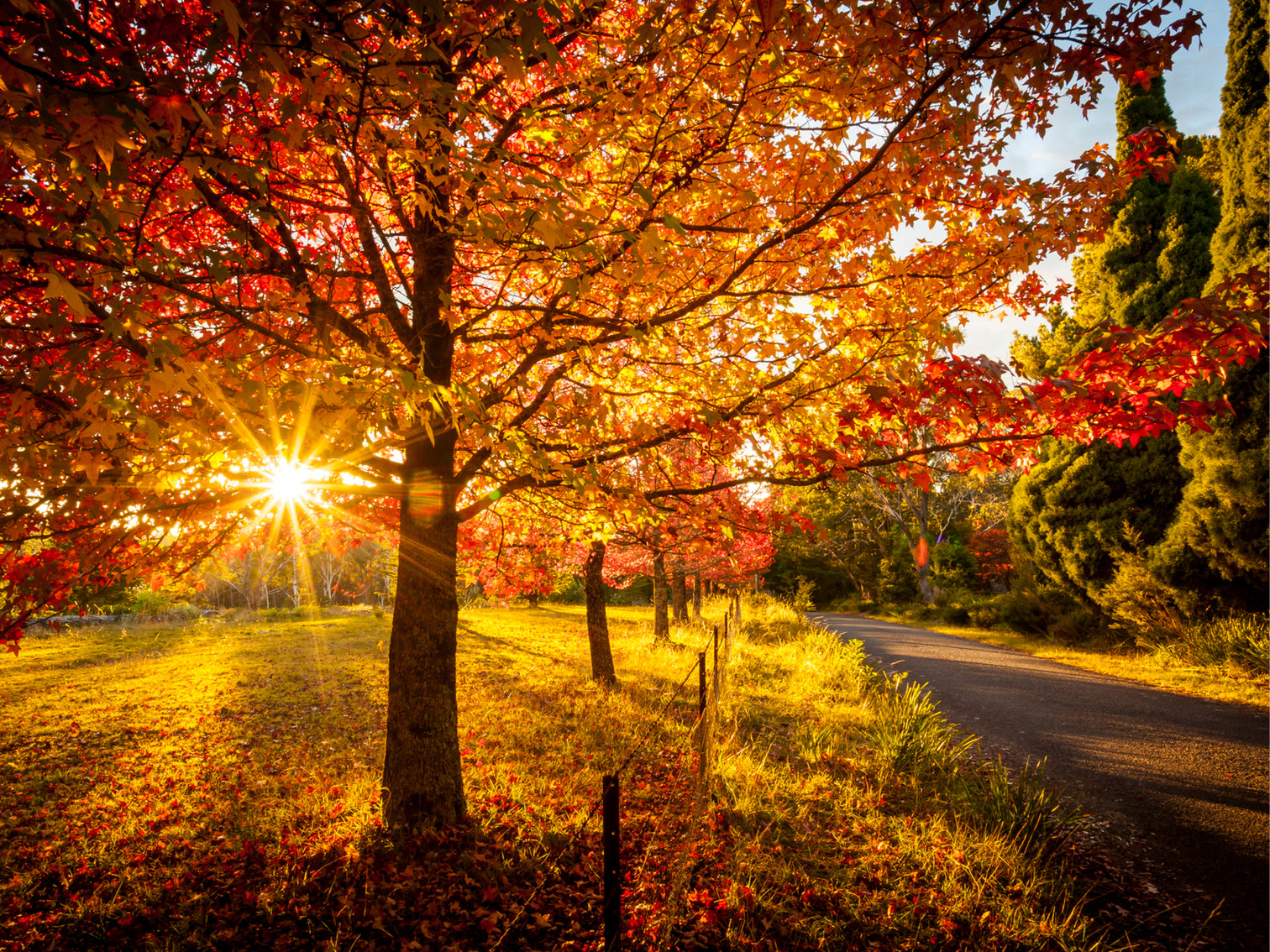 The days are getting shorter and the nights colder.  Leaves have morphed from bright, verdant greens into burnt ambers, warm coppers and glowing golds and streetscapes are transformed into spectacular scenes right across the country.  Before the leaves fall, we share some of our favourite spots to enjoy the beautiful colours of autumn.
Adelaide Hills, South Australia
The Mount Lofty Botanic Garden which spans 97 hectares overlooking the Piccadilly Valley features the iconic Heyson Trail that weaves its way through the display.  Neighbouring townships of Stirling, Aldgate and Hahndorf, all come alive during Autumn with tree-lined streets radiating the rich colours that the season brings.
Alpine High Country, Victoria
Featuring the Bright Autumn Festival that runs through April and May, the Alpine High Country also includes neighbouring Beechworth, Harrietville and Yackandandah – all well worth the four hour drive from Melbourne.  A delight for photographers the proliferation of colourful trees is a wonderful celebration of Mother Nature and all her beauty.
Source: visitvictoria.com
Balingup, Western Australia
Although WA is not the first place that comes to mind when thinking of cold-climate landscapes, a short two and a half hour drive from Perth is Balingup where the Golden Valley Tree Park features an expansive collection of deciduous trees.  The largest arboretum in WA, the World Collection includes a diverse range of exotic species including some more than 100 years old, planted when farming properties were first established.  
Blue Mountains, New South Wales
An hour's drive from Sydney, townships including Blackheath, Bowral, Katoomba and Leura all have main streets lined with golden-hued beauties.  The mass of maples at the Mt Tomah Botanic Garden is one of the best in the country and the heritage Breenhold Gardens located in Mount Wilson, features many different maples, beech, birch and oak varieties.
Source: @molemedia
Lake St Clair National Park, Tasmania
Native deciduous trees are few and far between.  Evergreens fare far better with the variable Australian climate and limited water resources.  There is however a special tree called the Myrtle Beech which can be found two hours from Launceston in the Cradle Mountain National Park.  Not only does it lose its leaves towards the end of autumn, it changes colour to glorious shades of gold creating a spectacular display against a rugged mountain backdrop.
Source: abc.net.au
Orange, New South Wales
The main street of the Central NSW coast town of Orange comes alive with an incredible row of colourful trees.  Known as the 'colour city' it's not hard to see why with magnificent displays of golden poplars lining the streets in this town.
Source: weekendnotes.com
Main photograph source: destinationnsw.com.au
Read more
✕