An interview with sustainable activewear brand Adrenna founder Julie Ngov
September 23 2018
·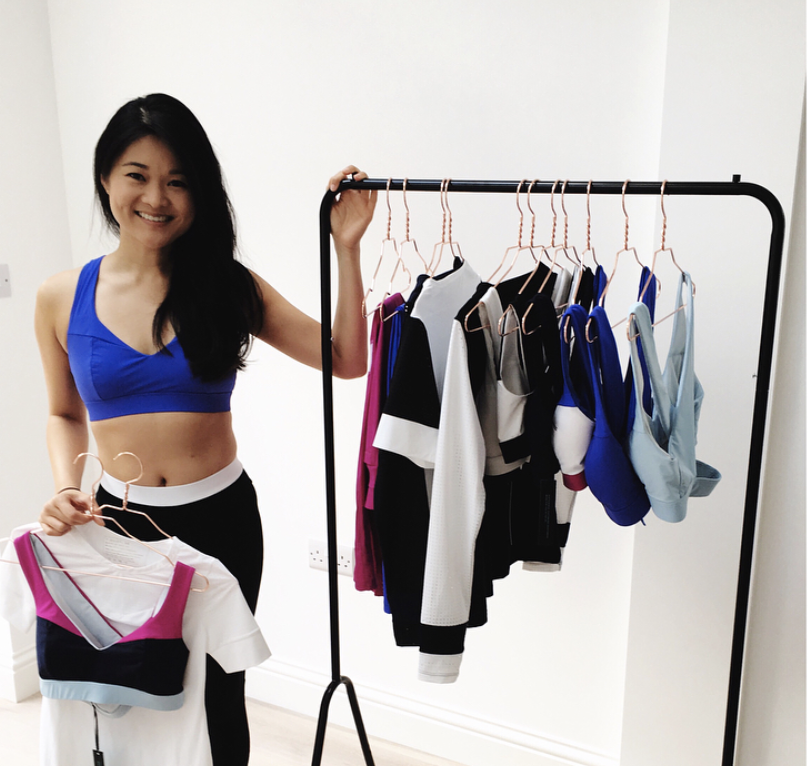 September 23 2018
·
This month we had the chance to meet Julie Ngov, Australian living in the UK and founder of Adrenna, a brand of sustainable luxury activewear for women.  Julie has designed the brand using certified fabrics to create a clean range of classic styles with a pop of colour.  In order to keep the environmental impact as low as possible, she has put in practice 'mindful manufacturing' and operate on a made-to-order system to ensure not to overproduce. 
Would you like to share with us a little bit more about your background and why did you decide to move to the UK?
I grew up in Adelaide, Australia. My family are ethnically Chinese and my parents grew up in Cambodia.  Traditionally my family were small business owners and my grandfather ran a fabric mill in Cambodia alongside other businesses.  My parents moved to Australia in the early 80s as refugees.  I was drawn to being a lawyer because I loved reading, reasoning and politics.  In 2010 I had the opportunity to move to London to start a career in the City.
How did Adrenna come to life?
The long hours and pressure in the City took its toll.  I discovered that I was no longer seeing friends, was gradually losing touch with my family and myself.  I eventually burned out after 5 years in the City.  The stressful, fast pace of life in London often means that the environment is an afterthought.  In particular, the dominating presence of fast fashion brands and cheap, disposable clothing was a real eye opener.  
After suffering chronic neck and back pain from long hours working as a lawyer, I took up yoga and weight training to build strength and manage the pain.This led to a range of sportswear purchases, but none of the garments really fit me and no brand spoke about having any environmental or ethical standards.  With Cambodia being a major hub for garment manufacturing, the exploitative nature of the industry and how it impacts women particularly are issues that are close to my heart.  Adrenna is an effort to bring together my love for movement, a healthy body and mindset and respect for the environment and humanity.
What are the challenges you have been facing launching a new brand and trying to share the importance of sourcing non-toxic material?
There are so many challenges to launching a new brand.  The main one has been trying to nail the marketing in a very noisy, crowded, digital marketplace. However, I really believe that environmental challenges will be ones that define our generation, but it doesn't have to be all doom and gloom and I'm determined to change our relationship with clothes, our bodies and the environment for the better.  There are so many things we can individually incorporate in our daily lives that will make a collective difference.
One of Adrenna's core values is to reduce the environmental impact that mass production – especially in the fashion industry - has on the planet. 
How did your habits change in order to achieve the same in your everyday life?

I have always been aware of my environmental impact, but even more so ever since launching Adrenna.  Unfortunately we don't live in a sustainable, zero-waste world, but a consumer one.  To mitigate my environmental impact, I rarely buy new clothes and when I do, it's second-hand or the best quality I can afford from a range of ethically made and sustainably sourced brands.  There are a range of exciting new brands in this space that it's so much easier to shop this way.
Can you share with us some of the main ways you choose to 'live a natural life'?

I don't think of myself as living a 'natural life' as it's quite difficult to do when based in a sprawling city like London.  However, I try my hardest to keep my routine simple, by using organic soaps and natural cosmetics and avoiding processed foods as much as possible.
Can you share with us your strongest scent-based memories (e.g. your grandmother's jasmine, your first perfume)?

I miss the smell of the rain in Australia - just before it's about to break after a long heatwave.  The relief that comes with a downpour and all the smells that come with it is a real joy.  It reminds me of long summer breaks in my childhood.
What do you miss the most about Australia? 
The consistent sunlight throughout most of the year and easy access to the most stunning, clean, white sand beaches. I will never complain about an Australian beach ever again!
Read more
✕